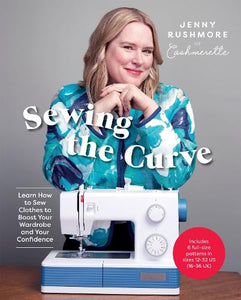 ABOUT

Learn to sew a wardrobe of confidence-boosting clothes with Sewing the Curve, even if you've never picked up a needle before!
When you're curvy or plus size, it can be hard finding clothes that fit well and express your personality – but learning to sew can also be intimidating, especially if you're not in the size range of most beginner sewing patterns. In Sewing the Curve, Jenny Rushmore, the body-positive, plus-size founder of Cashmerette, will have you sewing fantastic clothes – that fit! – in no time, with 6 full-size sewing patterns (UK sizes 16–36/US size 12–32/EUR sizes 44–64) including a wrap skirt, swing dress, quilted jacket and knit pants, to learn with.
Start with core skills, from threading a sewing machine, to understanding sewing patterns, and measuring yourself accurately, and then once you've mastered the basic techniques, learn how to put them to the test, and sew your first garment – one you will love to wear, because it's designed for bodies just like yours. By the end of this book, you'll be able to sew clothes with ease and confidence, in any style or fabric, that fit and express your unique style.
Sewing the Curve is the perfect companion for Jenny Rushmore's plus size fitting bible, Ahead of the Curve.
AUTHOR            Jenny Rushmore of Cashmerette
FORM                Paperback, includes patterns.