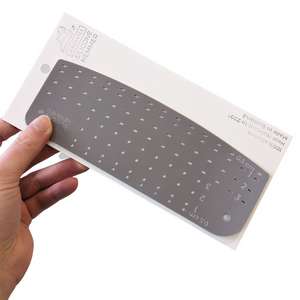 ABOUT             

Jen Hogg, aka Jenerates is a talented sewer and knitter, most notably recognised as an excellent contestant and semi-finalist on The Great British Sewing Bee in 2019. She has since turned her hand to creating a series of tools and sewing accessories for makers.
Heat resistant to 230°C.  Plus it doesn't distort with steam.  You can even use it under the edge of fabric when ironing on fusible interfacing; the glue won't stick to the silicone.  And if you're using a sleeve ham, it will hug the curve on that too.
One side has a gentle curve, the other is straight.  Both are marked with small holes at 0.5, 1, 2 and 3 cm to let you mark your fabric for super-accurate placement.  Plus you can use the holes to pin through the hemmer without damaging it. 
There are two corner options as well, to help with pressing curves.   For the best results on pockets, especially with thick fabrics, add a line of stitching inside the seam allowance to gather in the excess fabric evenly along the curve: you can see the result of that on the green wool.
COLOUR             Grey